End of school year message, Tara Golshan, ED
Thank you for all your hard work in these unprecedented times.  
For never giving up and for finding creative ways of working on your Roots & Shoots projects during this Pandemic.  
Onwards and upwards.
We look forward to seeing you again in September.  
Have a lovely Summer break.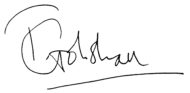 Tara Golshan
Executive Director, Education